A New Way to Visit Colleges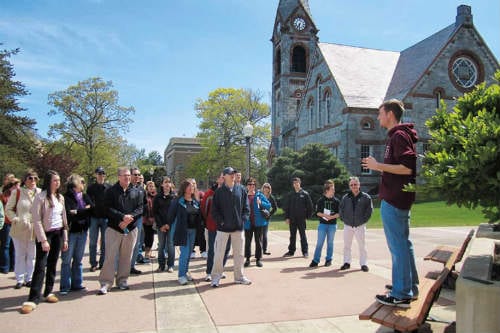 Fall is a busy time for all high school seniors, especially those preparing to apply for college. This year, seniors are tackling the application process with more independence than before. One aspect of choosing a college to attend is visiting the school. With on-campus visits out of the question for now, current seniors need  to find different ways to learn about their schools.
Visiting a college campus is a valuable opportunity for prospective students to meet students and faculty, tour facilities, and get a real feel for the school itself. Some seniors were lucky enough to get their visits in before COVID-19 lockdowns began.
Sam Prigg had the opportunity to visit some colleges in the spring and summer of 2019. At UCLA, she got a tour of the engineering school from a current student, which was helpful in finding out what it is like being a student at the school. "It gave me the most real idea of what campus was like there," says Sam, explaining the benefits of campus tours.
Touring schools also made her realize that location and school size were important to her in terms of choosing a school. "I found after doing in-person tours that I definitely love California as opposed to schools like UW or OSU which I didn't feel as at home at," Sam explains. "I also found I liked bigger schools, especially after visiting CalTech which I definitely did not feel at home at, as it was super tiny."
For those seniors who did not get the chance to visit campuses, colleges and universities around the country have programs set up for prospective students, including virtual campus tours, seminars, and Q&A zoom sessions with admissions counselors and current students.  Avery Ackley-Speights got the chance to take part in the full-day (virtual) Dartmouth Bound Fly-In Program,  where she was able to meet with professors and students and ask questions while also getting a tour of the campus and facilities. She says that this opportunity for getting questions answered in a more personal way while also getting a feel for what it is like as a student.
It is normal for colleges to send representatives from their school to give presentations at various high schools. For many students, these rep visits are the first time that they are getting in contact with admissions counselors from the schools they are applying to.
Ms. Dowers, the Career Center Specialist, has been organizing and sitting in on all of the virtual rep visits. From the presentations she has seen so far, most schools are going about these visits the same way. The representatives have slides prepared about certain aspects of their school, touch on the most frequently asked questions, then open up the session for a Q&A. These presentations are useful because, despite not being in person, they allow students to meet the people who will be reviewing applications and have personalized time to ask specific questions to the experts on the schools. 
Personally, I haven't had the chance to visit any campuses or attend any virtual webinars. One worry I have is that the school I choose will be perfect on paper, but that when I step foot on campus, I just won't feel at home. Sam and Avery both agree that visiting a school on campus is very important. "[Visiting colleges] is the best way to figure out the vibe of the school and see if you can picture yourself spending the next four years there," says Ackley-Speights, who, while agreeing that visiting schools is an important part of the college selection process, thinks that staying safe and not traveling takes precedence in a pandemic.
As useful as on-campus visits are, they are not a reality in the situation we are in. The best way for students to feel connected and informed about these schools is  to ask questions. Reach out to your admissions counselor! Some universities even have opportunities where you can chat and ask questions with current students. If you need any help with the college process, the Career Center is a great place full of resources and people willing to lend a hand.
About the Writer
Lin Yee, Writer
Lin Yee writes for the Capital Outlook newspaper. She is a writer and is scheduled to graduate in 2021. Lin specializes in writing op-eds about current...