Sugar free Red Bull is worse for you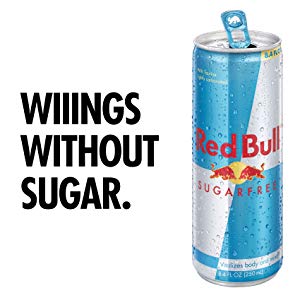 March 28, 2019
Filed under News
Hang on for a minute...we're trying to find some more stories you might like.
We all know the sweet sight of the blue cans engraved with silver linings, filled with a tangy, bubbly substance known as "Red Bull." Over recent years, Red Bull has been in the rise due to the ever-growing popularity of energy drinks. For teens, it has become so popular that Capital's student store now sells the sugar-free version of the drinks. But what really is the difference between the original and sugar-free version? The only major difference between the cans is sugar quantity, but is the sugar content the real culprit?
Since it's debut in Australia in 1984, Red Bull has been gaining momentum as celebrities such as David Dobrik, Jeffree Star and Post Malone have been seen openly with the notorious cans. Popular corporations, such as Dutch Bros., sell their own version of Red Bull drinks, known as the "Rebel". According to the National Institutes of Health, "Men between the ages of 18 and 34 years consume the most energy drinks, and almost one-third of teens between 12 and 17 years drink them regularly."
We all know energy drinks are unhealthy to consume on a regular basis, but what are the side effects? The caffeine amount found in a regular can is associated with increases in anxiety, sleep problems, heart rate, and blood pressure. There is a common misconception that sugar-free Red Bull is better for you just because it is sugar-free when indeed it's not. One of the main ingredients found in Red Bull is taurine, and according to Harvard University, may also dilate the blood vessels around the heart. Not to mention Red Bull's popularity at the party scene. Mixed with alcohol, Red Bull can have a deadly effect. As well, Red Bull mixed with the depressant effects found in alcohol can increase one's chances with heart attacks or even stroke.
Maybe next time, when you crack open the can of your fifth energy drink of the day, you'll think about what's in the can before you take your first sip.