The Recognition They Deserve: Senior Spring Sport Athletes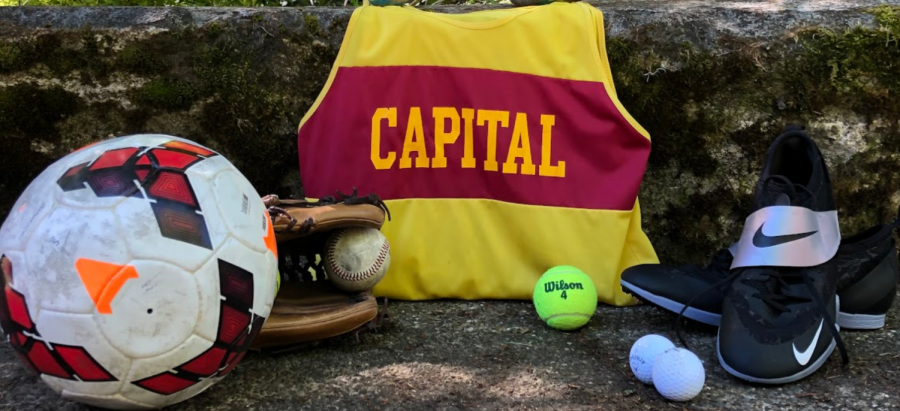 Athletes, most notably seniors, were left in shock when the spring sports season was taken from their grasp. 
The decision was made on April 6, a day that parents, students and athletes will remember forever. A solemn day that left many sad and confused on what to do next. However, knowing the Capital High School athletes, they weren't knocked down for long, and soon got back to work. I was able to interview senior athletes of each spring sport to see how they are handling the situation. 
A common theme between all the athletes was resilience and positivity, two very important traits during this historical time. Not one of the seniors showed a lack of understanding.
Senior fastpitch co-captain, Lizzy Miles, has been playing fastpitch since she was seven years old, all for it to end with this abrupt cancellation. Rather than let the negativity hover over her, she has turned it into a time of realization to help her cope.
"It's been really helpful to remember that there are a ton of people out there in a worse situation, and that I really have had a fantastic run," said Miles. 
Another senior, track athlete Kyra Skipworth, has realized she cannot change the past, but what she can affect is her future. She has turned her disappointment into motivation.
Skipworth said she has managed her feelings "by continuing to workout everyday and focus on the future of my track career, instead of dwelling on the things that I'm missing." 
Like sports, the path of life is never straight, but rather winding and full of obstacles trying to knock you off course. This is the beauty of competition, it is a time to show your true strength and courage in the face of such struggles. 
Capital High School Athletic Director, Steve Taylor has seen the strength student-athletes have shown, and made the following comment.
"I see the resilience of these individuals. They show great character and courage to accept the hand that was dealt and move forward," said Taylor. 
As our Capital High School athletes move forward, many will be taking different paths, some to continue their athletic career, and others to pursue other passions. Whichever path they have chosen, it has not stopped them from working hard during this trying time.
Baseball Senior, Simon Cognasso, was disappointed for some time, knowing that the baseball team had strong potential this season. Rather than dwelling on the past he came to realize that there are "things going on in life and the world bigger than baseball" said Cognasso. 
Although he's not able to be an example on the diamond this season, he is being one in the community. 
Cognasso said that he is focused on "doing my job to stay home and keep others safe."
The spring season held many exciting things to be discovered and shared with spectators and teammates. 
Senior tennis player, Lauren Schmidt, said she will miss playing on Capital's home courts. While golfers Brianna McNelly and Zach Adolfson long for the ability to share memories with teammates on the road to away matches. 
Whether it be the thrill of a crowd watching at home, or the adrenaline that comes with wearing Cardinal and Gold on foreign territory, it will be missed all the same. 
As the situation with the current pandemic progresses, so does the situation with future high school sports. "At this point there are not any plans to change high school sports," said Steve Taylor, "That being said, if we need to adjust for any social distancing guidelines in order to proceed with play, we will do so." 
For younger athletes planning to continue high school sports, take advice from senior soccer player Connor Potkonjak.
"Play every practice and every game like it's your last because you never know when it will be," said Potkonjak.
To all the athletes that missed their season, don't let this shape the rest of your careers, only allow it to be an obstacle you overcome. Your hardwork on and off the field, court, track and fairway has not gone unnoticed. We see you, we hear you, we love you. We are Capital.