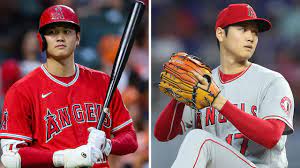 The MLB regular season concluded on Sunday, and while some teams are battling for this season's title, others are turning their focus to next season.  Most of the off-season drama this year will be focused on a certain Japanese two-way superstar that is set to sign a record-breaking contract.  The question that remains is where Shohei Ohtani will sign and by how much will his contract exceed those that have come before.
As the tension on the field ramps up, Angels superstar Shohei Ohtani starts to turn his focus on where he wants to go for the next stage of his career.  Ohtani began his journey in Japan, where he played for 4 years for the Hokkaido Nippon Ham Fighters.  In 2017, he made the jump across the pacific and signed with the Los Angeles Angels.  He has been a part of the organization since then.  After the Angles disappointing season, he looks to move on and find a team that he can win with.
Back in 2017 Ohtani reportedly had 7 teams on his final list.  The Mariners, Dodgers, Cubs, Padres, Rangers, Giants, and Angles.  From this list and other comments he made, we can gather that he wanted to stay as close to home as possible, meaning he did not want to go to the East Coast.  The reported reason that he landed on the Angels over the other teams was because of Mike Trout, the consensus best player in baseball at the time.  Ohtani wanted to play and be around the MLB's top superstar, to learn from him about how to succeed in baseball's top league.
With Ohtani becoming a free agent this winter, he will once again have his pick of teams.  Ohtani's primary goal through this free agent cycle is to find a team that will compete in the playoffs for years to come.  Meaning that whatever team he signs with will be young, talented, and have the financial power to be able to pay year after year to compete.  Additionally, he has been rumored to still want to play closer to Japan and still has ambition to play with superstars.  Using that criteria, there are very few teams that would be in contention.  The Dodgers, Diamondbacks, Padres, Mariners, Rangers, Astros, and Cubs all will be in the running.
Ohtani is also set to become the highest paid player in MLB history.  His unique skill set allows for him to request star pitcher and star batter money in one contract.  Some around the MLB think the money could reach up towards 700-800 million, with an average 75 million per year.  Whatever team signs him is going to have to fork over a ton of money and be willing to commit to him for the long term.