March Madness Round of 64 Recap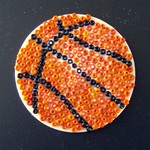 The Round of 64 of March Madness is always two of the most exciting days in sports with crazy wild upsets, close games, and dominating performances. In only the 2nd game of the round of 64, there was a wild upset where #13 Furman beat #4 Virginia 68-67 in a close match that indeed broke many people's brackets. Now let us see what the rest of the round of 64 has in store for us in this recap. 
To start off we have some standard games that went as predicted based on seeding. #8 Maryland beat #9 West Virginia 67-65. #7 Missouri beat #10 Utah State 76-65. #1 Kansas beat #16 Howard 96-68. #1 Alabama beat #16 Texas A&M CC 96-75. #5 San Diego State beat #12 Charleston 63-57. #8 Arkansas beat #9 Illinois 73-63. #9 Auburn beat #8 Iowa 83-75. #5 Duke beat #12 Oral Roberts 74-51. #2 Texas beat #15 Colgate 81-61. #7 Northwestern beat #10 Boise State 75-67. #4 Tennessee beat #13 LA-Lafayette 58-55. #1 Houston beat Northern KY 63-52. #2 UCLA beat #15 UNC Asheville 86-53. #7 MI state beat #10 USC 72-62. #3 Xavier beat #14 Kennesaw St 72-67. #3 Baylor beat #14 UCSB 74-56. #5 Saint Mary's beat #12 VCU 63-51. #2 Marquette beat #15 Vermont 78-61. #6 Crieghton beat #11 NC State 72-63. #4 Uconn beat #13 Iona 87-63. #6 Kentucky beat #11 Providence 61-53. #3 Gonzaga beat #14 GCU 82-70. #5 Miami beat #12 Drake 63-56. #9 FL Atlantic beat #8 Memphis 66-65. #3 Kansas State beat #14 Montana State 77-65. #6 TCU beat #11 Arizona State 72-70. #4 Indiana beat #13 Kent State 71-60. These games went as expected, nothing too exciting, just typical things. 
Now to move on to what excites any March Madness fan the upsets. To start off as mentioned earlier we have #13 Furman beating #4 Virginia 68-67. This was an incredible game although out, Virginia was able to keep a steady lead throughout but Furman was able to keep pace and right take the lead and upset Virginia. Another bracket-breaking upset that occurred and has only happened 11 times in the tournament's history is a #15 seed Princeton beat Arizona a #2 seed 59-55 which is undoubtedly one of the biggest upsets of recent memory. Another minor upset that occurred is when #10 Penn State blew out and destroyed #7 Texas A&M 76-59. Another upset that occurred is when #11 Pittsburgh beat #6 Iowa State 59-41 which is quite impressive since Pittsburgh had to play in the first 4 just to make the main tournament. For the 2nd time in history a 16 seed was able to upset a #1 seed in an epic battle between #16 FDU beat #1 Purdue 63-58. This game was also impressive like the Pittsburgh upset because FDU also had to play in the first 4 and is one of the more historic games since it is the only times that a 16 seed has won. These upsets show how crazy the heart of March Madness is and how unpredictable it is and what a wild year the rest of the bracket will be. 
Hopefully, the rest of March Madness will be just as crazy as the first round. Will Prinston, FDU, or Furman be the Cinderella story and upset everyone's bracket, or will everything fall back into place where the top teams have to duke it out to win in an epic finish. Whatever happens, this March is undoubtedly going to be Mad.