Brock Purdy's Rise to Fame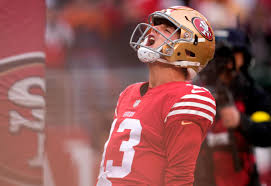 Brock Purdy, Mr. Irrelevant himself, emerged out of nowhere to lead the San Francisco 49ers all the way to the NFC Championship game.  Purdy has amazed everyone with his ability to lead the offense with a poise that is not common in rookie quarterbacks.  Who is Mr. Irrelevant, and how has he become an instant success?
Mr. Irrelevant is a nickname given to the final player taken in the NFL draft.  The tradition started in 1976 by former USC receiver Paul Salata.  After each NFL draft, Mr. Irrelevant and his family are invited to Newport Beach, California for a week where they get a trip to Disneyland, a golf tournament, a regatta, a roast, and a ceremony that gives the drafty the Lowsman trophy.  The Lowsman mimics the Heisman trophy but depicts a player fumbling the football.  Some of the most notable Mr. Irrelevant include Ryan Succup (Kicker), Michael Green (safety/Cornerback), Tae Crowder (Linebacker), Marty Moore (Linebacker), and David Vobora (Linebacker).  
On Sunday, the 49ers took on the Philadelphia Eagles in the NFC Championship game.  The game did not go according to plan for the 9ers.  On their first possession of the game, Purdy's arm got hit while throwing, causing an elbow injury that took him out most of the rest of the game.  Josh Johnson then went into the game and did not look good.  He fumbled a perfect snap, which gave the Eagles a 21-7 lead going into halftime.  In the third quarter, Johnson suffered a concussion, which forced the 49ers to bring Purdy back into the game.  Purdy was not able to throw when he came back in.  He only attempted 2 passes after he came back into the game, but both were screen passes around the line of scrimmage.  Without a quarterback the 49ers could trust to throw the football, it was never a close game, with the final score being 31-7.  It is disappointing to all NFL fans that we did not get the exciting NFC championship that was expected.   
Historically, Mr. Irrelevant has not found much success in the league.  Brock Purdy has broken that trend.  Since becoming the 49ers' starter, he has gone 7-0 including postseason wins against Seattle and Dallas.  This season, he has a 65.9% completion percentage while throwing for over 1,900 yards and a passer rating of over 107.  He also has a 4-1 touchdown to interception ratio and even more impressively he did not throw any interceptions in either playoff game.  He has been able to do what few rookie quarterbacks have ever done, take care of the football.  
Perhaps more impressive than the stat totals he has amassed would be the poise and veteran leadership that he shows in the huddle.  Trent Williams, the 49ers' veteran left tackle, said, "You would think he's been in the league 15 years.  If you're talking, he'll say shut your a** up.  He ain't no timid rookie feeling his way around.  He will get on your a**.  You would think he's like Peyton Manning or something."  Christian McCaffrey, the 49ers' star running back also said, "There's a way that a lot of rookies are, and I think I was probably a little bit like myself.  I wanted to be great, obviously, but he doesn't act like a rookie.  He doesn't act like a rookie in the huddle.  And he plays with a calm confidence that is rare, especially in rookie quarterbacks."  Purdy commands the huddle with a veteran-like presence that has helped the team get over losing their first two quarterbacks to injuries.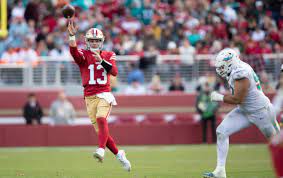 Coming into the season, the 49ers thought they had found their quarterback of the future in Trey Lance.  That dream did not last long.  In week two against Seattle, Trey Lance broke his fibula and tore both his deltoid and syndesmotic ligaments.  His season was immediately over.  Next, veteran Jimmy Garapalo took over.  He has been the team's starting quarterback since 2017 when he was traded to San Francisco from New England.  He played 10 games and got the 49ers to a 7-4 record before he suffered a broken foot in the game against the Miami Dolphins.  That is when Purdy got his chance.  The Dolphins threw everything they had at him, sending blitz after blitz.  Purdy held firm and completed 25 out of 37 passes, including 2 touchdowns and 1 interception.  Since he came in, all he has done is put points on the board.  The 49ers have scored over 30 points in all but three of the games he has played in, and he has thrown multiple touchdowns in all but two of those games.  It is clear that he is not a liability, but he has elevated this offense to new heights.
Brock Purdy went to Perry high school in Arizona.  Going into his junior year, he was the unquestioned starter of the team, until he contracted mono about two weeks before the season started.  He was out of physical activity for 6 weeks and ended up losing 20 pounds.  When he came back he had no strength and every throw was a rainbow but also right on target.  When he entered the game that week, he went 25 of 28 for 361 yards through the air, with another 45 on the ground.  He never came out after that and led the team to become contenders for
the state title.  Then prior to his senior year, he joined some of his teammates and coaches for a game of paintball.  He found what he believed to be a great hiding spot behind a cactus, but when he had to take evasive maneuvers he put his hand right on the cactus, and the spine when straight through, and it had to get surgically removed.  By his senior season, he was finally healthy and had gotten his weight and strength back after mono.  He led the team to within 8 points of winning the state title.  
Now colleges were all over Brock.  He received offers from Boise State, Alabama, Illinois, and Texas A&M before choosing Iowa State.  Iowa State head coach Matt Campbell was amazed by his humbleness and maturity, which took Purdy to the top of their targets list.  Iowa State did not have the sparkling factor that some of the other schools did, but Purdy saw it as a place he could build something.  He got his first playing time in his freshman season in a game against Oklahoma State when the Cyclone's starting quarterback got injured.  Just like his post-mono performance in high school, he excelled and never came out.  He ended up starting 46 regular season games in college while tying or breaking 32 school records.  He transformed Iowa State's football program into a powerhouse that beat Oregon in the 2020 Fiesta Bowl.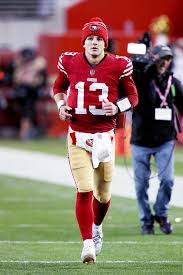 Brock Purdy has never been handed anything.  He overcame mono and a sharp encounter with a cactus.  Defied expectations during his tenure at Iowa State.  Conquered the odds associated with being drafted as Mr. Irrelevant.  Finally, he led the San Francisco 49ers further than anyone expected until a freak incident took him out of the game.  It remains to be seen whether he is the 49ers' quarterback of the future or not, but it is clear that he deserves the respect of an NFL quarterback.