After a devastating terrorist attack on October 7th, Israel has declared war on the militant group Hamas, which controls the Palestinian region of Gaza. The effects of this conflict are already staggering, and much remains to be seen. Multiple superpowers, including the United States, have vested interests in this war, making it a prominent part of our political sphere. If you feel overwhelmed by all of the information available, you are not alone. 
This is a difficult issue to just give some "background details" on, and in the words of Capital English teacher Mr. Street, "It can be problematic  to simplify or provide a 'brief overview' of the conflict, because the complexities that overwhelm us are the history and lives of the people that live with this conflict every day." Researching this issue is a good exercise in media literacy, as bias runs rampant in what and how the conflict is reported. The Guardian published an article mid October about their competitor, the BBC, and their struggles with reporting on the war. The news corporation received over 1,000 complaints, evenly split on both sides saying their reporting is one sided. I use the word "conflict" and "war" to describe the situation between Israel and Palestine throughout this article, but some have criticized this phrasing as it suggests that both sides are equal, and capable of fighting each other, and the evidence suggests they are not. This aspect alone is a good reminder to us all to expose ourself to different perspectives and develop our own opinions as all language contains bias.
When I asked Capital student, Samara Nasrullah what her initial thoughts were and how they have changed, she said, "At first I didn't really know what to think, I was thinking it was more like Israel was the victim, because that's what I would read in Western media and news articles. But as I did more research into it I started to see that it's more complicated like that, and it's more like there are perpetrators in both areas, in both Gaza and Israel. My viewpoint has changed that I'm more towards civilians, I feel for them, as opposed to either side." 
Samara also has a personal connection to the issue, as a Muslim, she says, "I know there is a lot of rising Islamophobia within western countries, it makes me really sad to hear about hate crimes happening." Samara is absolutely right about this growth in Islamophobia, as reported by ABC, the increase in these kinds of incidents, as well as antisemetic hate crimes, has been exponential. Instances like these reveal how violence can cross oceans and cause pain everywhere.
Something I have to fight is the feeling of detachment. Gaza is almost seven thousand miles away, and I don't know anyone currently living in Palestine or Israel. But, there is a connection to Olympia, and Capital High School, that many students might not know about. 
If you've been to downtown Olympia, you've probably seen the mural pictured above. It's one of my favorites, and I didn't know until recently that it was made in honor of and solidarity with the Rachel Corrie Foundation. Rachel Corrie was a Jefferson Jaguar and Capital Cougar, just like me, and she attended the Evergreen State College. More importantly, she was peace activist and fierce advocate for others. Rachel was killed by an Israeli bulldozer in 2003 while protesting the demolition of a Palestinian family's home. The foundation created in her name has engaged in grassroots activism for anti-war movements, and social, economic, and environmental justice locally and around the world. I had the incredible opportunity to speak with Cindy and Craig Corrie, Rachel's parents and the creators of the foundation.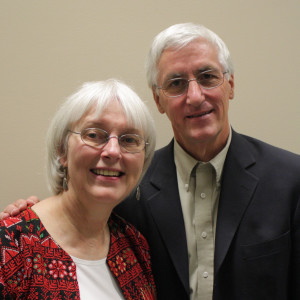 I asked them to tell me what Rachel was like, and they described a picture of an imaginative and empathetic girl. Cindy Corrie said "She was a creator, an artist and a writer. She went to the Lincoln options program, and there was a focus on connecting to the world, locally but also globally, seeing us all as one human family." 
Rachel had been engaged politically since a very young age, evidenced by the fact that she spoke at the Capitol Building when she was five years old about world hunger. I inquired about Rachel's experience at Capital, and Cindy shared "[it] was in some ways difficult towards the end, because she had a trip to Sakhalin Island in Russia, and that just dramatically changed her focus and her sense about what was happening in the world. At that point, our relationship with the Soviet Union was that they were our enemy, and she got there and met the Russian people. That changed her outlook on these situations, that there are human beings behind all the political rhetoric. So it was difficult for her to come back and be a high school student in a typical way."
Rachel's parents were able to access and publish Rachel's many writings over the years in the book "Let Me Stand Alone", which has been turned into a play titled "My Name is Rachel Corrie". Her father said her writings "[show] her inner struggle to define her own values, and how to live up to her own values, and that's what coming of age ought to be about."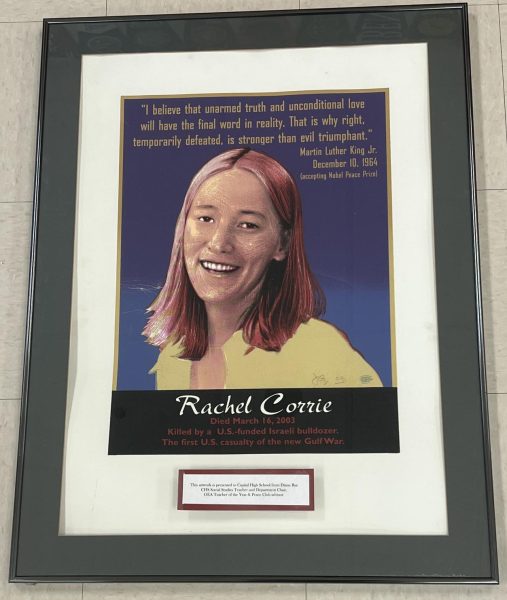 I've read Rachel's writings, and I can truly feel her passion for humanity through the page. I've gotten emotional when walking through Capital, thinking about how she walked these same halls, and might've sat in my same classrooms. When I feel overwhelmed by the scale of global issues, I go and visit the portrait of her in the Capital Library, pictured above. I feel the weight of the world, and think about how Rachel was able to channel her passion into action.
As for current events, the foundation has made a statement supporting de-escalation and ceasefire. I asked how Rachel might have felt about the state of the situation now, and Cindy Corrie said, "All the violence, she would find abhorrent, although I'm sure she too would want people to look at why is that happening, and what is the history."
Craig Corrie said,  "It's true that 70 years of war crimes perpetrated by Israel in Gaza does not excuse the war crime that was perpetrated on the 9th against Israel, and that does not excuse the war crimes that are being committed in Gaza now."
Their words helped me understand that this is the outlook that people need to start adopting to effectively address the situation.
I asked what students at Capital can do to carry on Rachel's legacy, and Cindy Corrie said, "When these things are happening, set aside time to really engage with the world, and to make room for hearing people, and listening. You're reaching the age where you can vote, where you can engage with the congressional offices, so I'd say learn to do that. We need to be more actively engaged in impacting what our government is doing."
There are lots of ways to do this, like demonstrating, testifying, and contacting your representatives. I have written to Marilyn Strickland about calling for a ceasefire, and supporting a bill that could mitigate some of the issues present, shown below:
Hello Congresswoman Strickland,
I am a constituent of your district and a 12th-grade student at Capital High School in Olympia. I am writing to express my dissatisfaction with the military aid the United States is sending to Israel and the human rights abuses that those funds are carrying out. The situation in Gaza is dire, and thousands of children have already been killed. I urge you to call for a ceasefire, as well as to H.R. 3103, the Defending the Human Rights of Palestinian Children and Families Living Under Israeli Military Occupation Act. This bill will curb Israel's use of U.S. funds for human rights violations, and benefit both Palestinians and Israelis. Thank you for your time.
Speaking with Craig and Cindy Corrie was an eye-opening and humbling experience for me. They are extremely kind people who have worked tirelessly since their daughter's killing to bring justice to her, and to all people oppressed by their governments and war around the world.
Something that Craig Corrie said particularly stuck with me, when he shared, "Cindy and I have had the privilege to travel to several places, but certainly the Middle East and Israel, Palestine, the West Bank, and Gaza. People are always worried about 'them', you hear about 'them', but wherever I go, there's no 'they' there, it's just us. It's all us, we're all the same."
This beautiful sentiment was familiar to me as it is similar to what Rachel said at the Capitol building when she was 5 years old, speaking about people in third world countries suffering from food insecurity: "We have got to understand that they are us. We are them."
In conclusion, I hope that after reading this article, you feel more connected to this issue, as well as empowered to act. Rachel said 20 years ago that "This has to stop." And it does. When I asked Samara what outcome she wished to see, she said, "I hope that in the short term, everyone in Gaza is able to get the help that they need, because right now it's not going so great. Honestly, I just hope that all the conflict stops, all the fighting. But that's too strong of a wish." 
I don't think that it's too strong of a wish, and I think that my generation should be striving for these big goals, just like Rachel Corrie did.