Bills' Damar Hamlin Suffers Cardiac Arrest in Game Against Bengals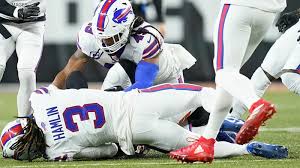 With the country-watching Bills Safety, Damar Hamlin made a tackle on Bengals Wide Receiver Tee Higgins got up off the ground, and immediately collapsed.  Medical personnel from each team rushed to his aid, while players from both teams gathered around him in a scary scene that football fans will remember forever.  
Midway through the first quarter of Monday Night Football between the Cincinnati Bengals and the Buffalo Bills, Damar Hamlin suffered a cardiac arrest on the field in front of tens of thousands of fans and even more who were watching on television.  Cardiac arrest is when the heart stops beating because of rapid abnormal impulses that disrupt the heart's natural rhythm.  Initially, it looked like a regular football play, but the events that unfolded over the next 90 minutes will not be remembered as a regular football incident.
Damar had been in critical condition at the University of Cincinnati Medical Center.  He recently traveled back to Buffalo and was released from the hospital Wednesday, just 9 days after the incident.  He was given CPR on the field and had to be resuscitated on the field.  Hamlin is showing signs of improvement.  He has woken up and is communicating with medical personnel, family, and his teammates.  When he woke up, he asked his doctors who won the game.  His doctors responded, "You won the game of life."  He has also face timed with his teammates to let them know that he is alright.  We still do not know definitively why Hamlin fell into cardiac arrest, but it is possible that the contact he had with Tee Higgins who drove into his chest may have sent his heart into an erratic rhythm called Arrhythmia.  Dr. Aaron Baggish, a sports cardiologist at Harvard Medical School, says that for Arrhythmia to occur there needs to be a "perfect storm."  The chest must be hit in the perfect spot at the perfect moment while the heart is relaxing after squeezing out blood and with the perfect amount of force.  The erratic beating of the heart caused by Arrhythmia could be one explanation for what happened to Damar Hamlin.
Since the incident, support for Hamlin has been pouring in from every corner of the country, both Cincinnati and Buffalo fans gathered outside the hospital Monday night to show their support for Hamlin.  Additionally, on Tuesday, all 32 NFL teams put up Damar Hamlin signs all over their stadiums and changed their profile pictures on social media to Hamlin 31 logos.  But the biggest act of support for Hamlin that we have seen has been from the fans.  Damar Hamlin started a fundraiser with a simple goal, to raise $2,500 to buy toys for children.  As of last month, he had raised $2,900, and it is now up to over 8 billion dollars. 
Hamlin was selected in the 6th round 2021 draft out of the University of Pittsburgh.  He is just 24 years old and 6 foot 200 pounds.  He is second on the team in tackles with 91, has one forced fumble, and has 1.5 sacks after playing 15 games this year.  He was one of the top cornerbacks in the nation coming out of high school in McKees Rocks, Pennsylvania.  He chose Pitt over Ohio State and Penn State.  Hamlin was a three-year starter and became one of the most reliable safeties in college football.  In his last year, he earned second-team all-ACC honors.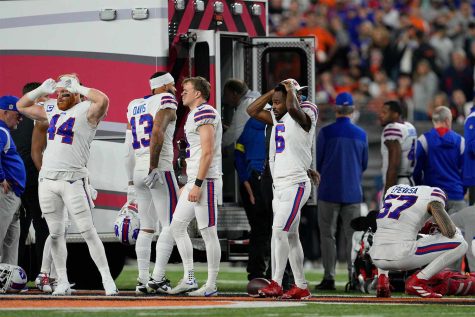 After Hamlin was taken off the field, Zack Taylor, the Bengals' head coach, and Sean McDermott, The Bill head coach met with game officials, and they decided to delay the game.  Both teams returned to their locker rooms.  Then the coaches meet again outside the locker rooms with the official and NFL representatives.  The decision was then made to postpone the game indefinitely.  A couple of days later, the NFL decided that the game was not going to be made up.  Instead, they put in place scenarios that would be used to make sure the AFC playoffs are as fair as possible.  If the Ravens had beaten the Steelers in week 18 a Bengals-Ravens first-round game would have home-field advantage decided by a coin flip.  The Bengals won, so that is not being implemented.  If the Chiefs had lost in week 18 a Chiefs-Bengals AFC Championship game would have been in a neutral location.  The Chiefs won so that scenario is not being implemented.  The only scenario that is being implemented is a Chiefs-Bills AFC Championship game would be played at a neutral site.  Since the Bills played one less game, they finished half a game behind Kansas City in the race for the AFC number 1 seed.  If a Chiefs-Bills Championship game occurs, the game will be played in Atlanta at Mercedes-Benz Stadium.
Damar Hamlin's incident on Monday Night is one that the sports community won't ever forget.  There has not been an injury like this in recent history.  Injuries are part of the game, but we are used to the players getting on the cart with their thumbs up, telling us they are ok.  When that did not happen on Monday night, you could feel the tension in the stadium and on the sidelines.  We all hope that Damar has a speedy recovery and that we won't see an injury like this again.