A Spoiler Free Review of The Haunting of Bly Manor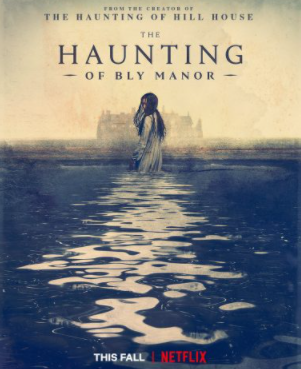 The Haunting of Bly Manor is a 2020 Netflix original anthology miniseries. It was written and directed by Mike Flanigan who also directed Doctor Sleep sequel to Stanley Kubrick and Stephen King's classic, The Shining and the first part of "the Haunting" anthology, The Haunting of Hill House, as well as a handful of other horror indie films like Hush and Harold Game. This miniseries is based off the 1898 novella The Turn of the Screw written by Henry James.
The Haunting of Bly Manor is a recommendation for any fan of The Haunting of Hill House. It is not as scary or frightful as Hill House, because it takes it's time building up characters and suspense. The show follows Dani, an American school teacher in London who moved there after a traumatic incident. Dani in need of work goes after a nanny job for two upper class orphans who live in Bly. Once she gets there, she realizes how weird the kids and her other co-workers act. Slowly, more and more fighting and supernatural stuff happens around the house. It also talks about love, loss, and grief.
The way they talk about loss and the grief of losing a loved one is done very well. The discussion of how to deal with that, and the idea that everyone deals with it differently, is very prevalent in the show, without taking away from the main ghost story going on. One of Bly Manors biggest flaws is that it had to follow Hill House, which is brilliant and frightening. Because of this, you might go in expecting the same and if you are, you're going to be disappointed. Unlike Hill House, Bly Manor lets the suspense build up until the end, which can get boring if you're expecting Hill House levels of suspense. Yes it's, in a way, an anthological sequel to Hill House, but other than the writing style, actors, and ghosts, the two are very different in substance. I do think the slow feel of it hinders it. At points it feels like what's going on isn't important, even though all of it is. However this slow feel gives you more time to invest in the characters and feel for them, which is a huge part of why this is a good show. Another thing that's big in the show is the feeling of confusion. Sometimes you don't know what's going on, and it's completely intentional. It feels like it's there to get you to feel uneasy. In a lot of thrillers and shows, the watchers are usually one step ahead of the characters, but a step behind the antagonist, giving a knowing weariness to it. Flanigan puts you in the show of the character, when the character doesn't know something you don't, leaving you confused and questioning, in a Lynchian style that has been coming back into pop and horror culture lately thanks to Flanigan and A24.
All in all, I feel like The Haunting of Bly Manors faults are weighed out by its fantastic writing and directing from Mike Flanigan. Even though it's not as good as his early piece into "The Haunting" anthology series, it was still good and very enjoyable. I'd recommend this to anyone who enjoys well written ghost stories, people who like temporary and artful looks into deep subject matters, people who want to see good LGBTQ+ characters, and people who have 8 Hours And 18 Minutes to burn. I would give it a rating of 4/5 stars.