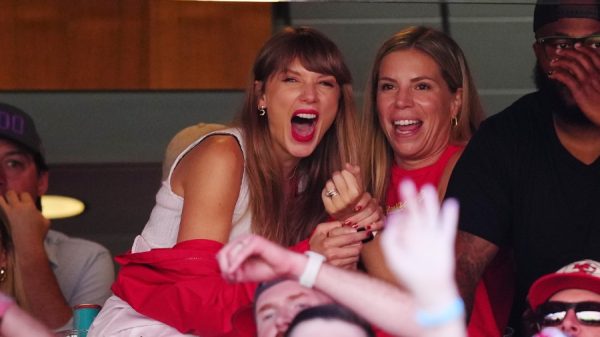 Taylor Swift and Travis Kelce made headlines across the country in the last two weeks after the pop star made an appearance at the Chief's last two games.  
After weeks of dating rumors, it seems that Kelce and Swift have confirmed all the suspicions.  Swift was seen at both games sitting in the Kelce suite with Kelce's mother, family, and friends around her.  Additionally, after the game ended, She was seen leaving the stadium with Kelce and riding off in his convertible.  
Swift is famous for using her relationships as inspiration for new music.  Through the highs and the lows, she writes and holds nothing back.  Although she very rarely explicitly states who each song is referencing, she leaves hints and clues for her most faithful fans to decipher.  Her actions and music leave the question, why take the risk of dating her if she is going to spill her anger and heartbreak into her music when she is done with you?
Many have tried, and many have failed in the revolving door that is Swift's love life.  She has had 12 public boyfriends, not including Kelce. Nearly all of them have seen the intimate details of their relationship embedded with her music.  Swift's first Grammy Award came from an album she wrote in the wake of her first public break up with fellow singer Joe Jonas.  That album was her second ever, showing how through her entire career she has taken her personal life and turned it into music.  In this case, Jonas was taken to task with songs like Forever and Always and Better than revenge.  Swift has also had problems with long term relationships.  Very few of her prior relationships have lasted over a couple of months.  
I do not understand why all of these men keep trying to date Swift when 12 previous boyfriends have shown us that she is not in the relationship for the long haul and the moment of your relationship that you may not want to share publicly will probably come out in her music.  Swift is unable to keep her thoughts to herself. You have the added pressure of making sure that you don't hurt her because if you do, all of those thoughts swirling in her head are destined to come out in the lyrics of her next album.  Then not only will she be sharing the intimate details of your relationship with the world, the album will be seen as a work of art, and she gets all the credit and support after trashing you and your reputation.  
I wish Travis Kelce good luck in this relationship and hope that he can be the boyfriend that sticks, but if not, Swift is going to have a lot of new material to work with and the songs she creates are bound to be memorable.