A Hard Day's Night: How The Beatles Helped Define a Generation
Quick Quiz: Do you know any of these songs? And if so, what do they have in common?
A Hard Day's Night
I'm Happy Just to Dance With You
Can't Buy Me Love
I'm sure you've heard at least one and you guessed it, they're all Beatles songs! They are all from the album A Hard Day's Night and featured in the film debut of the boys -John Lennon, Paul McCartney, George Harrison, and Ringo Starr. Ranked as the 88th greatest British film of the 20th century by the British Film Institute, the Beatles A Hard Day's Night truly lives up to the title. This movie and the band that made it set the tone for the rest of the 60's and has been the inspiration for numerous music videos to this day. I mean, there's a reason these titles are still known by kids more than half a century later. 
I have recently discovered that I am able to talk about anything I want in Journalism, so now I will just be producing a series of articles about them to monopolise on my infatuation. I have fallen deep into a Beatles rabbit hole since the summer of 2022 and have immersed myself not just with their music, but also the effects that the band has had on society. This movie is only one of the many ways they have impacted society and pop culture.
On July sixth, 1964, the Beatles first film A Hard Day's Night came out. They had already taken the world – especially America – by storm. The Beatles were in the midst of a publicity phenomenon, having already experienced a record of 73 million people watching them on the Ed Sullivan Show. Though Beatlemania was at its height, they had yet to imprint themselves into music history. A Hard Day's Night is what provided them with the extra push they needed to be seen as one of the most recognized bands of all time.
The initially low budget film had cost $500,000, but by 1971 the film was estimated to have earned $11 million worldwide (equivalent to $73,601,479 in 2021). It is currently certified fresh with a score of 97% on the Tomato-eater scale and an 89% in audience score. The critical consensus is that "A Hard Day's Night, despite its age, is still a delight to watch and has proven itself to be a rock-and-roll movie classic." The musical comedy with a run time of 83 minutes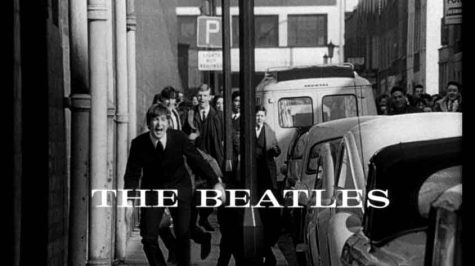 is directed by Richard Lester and stars, of course, the Beatles, in a mockumentary style 36 hour look into their lives befour a television performance. As not to spoil the film, I will only be highlighting three main parts that really display its effects when released.
The film starts with an iconic chase scene between the Beatles and a gaggle of their fans as they are trying to get on a train to London where they will film a televised concert. Once on this train, a scene between an older man who "fought in the war" and the boys plays out highlighting the issue of established social class which is explored throughout the film. The Beatles throughout this movie and in their actual careers were put down because of where they were born and how they behaved in public, so a defining factor of their group was that they stood up against that bigotry and lived their own lives rather than the ones they were born into. 
Another part of the film, which happens more than once, is the Beatles sneaking away from either their room or manager. This part is a nod to the fact that they are -and would continue to be- stuck in their fame. This is also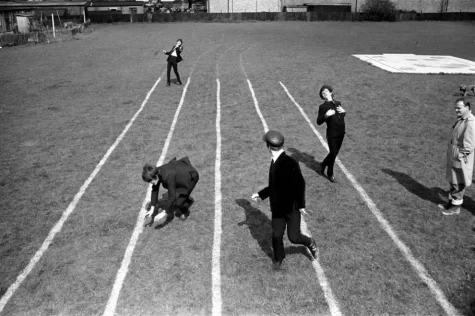 represented by the chase scene at the beginning, and yes, that actually happened to them in real life. They couldn't exactly live a normal life anymore so, in the film, to obtain a sense of it they would leave through a fire escape, or sneak out to a nightclub when their manager was away. Fame had stopped them from having physical freedom, but they always tried to maintain their sense of selves in one way or another.
One example of them trying to maintain their sense of selves is seen when The Beatles arrive at the studio on the following day of the film where they will be recording their performance. After their first rehearsal, they are bombarded by journalists at a press conference and combat all their questions with goofy answers and jokes:
Interviewer: Tell me, how did you find America?
John Lennon: Turn left at Greenland.
Interviewer: Do you often see your father?
Paul McCartney: No actually, we're just good friends. (This has been his answer for three previous questions.)
The writer for this film, Alun Owen, spent a few days with the boys in order to stay true to their Liverpudlian dialect and have an adequate representation of their individual humour. They were actually quite rowdy in actual interviews and tended to never take themselves or the questions seriously. This was a part of their charm. They appeared to be normal lads who had just stumbled upon fame and they never really paid much attention to how they "should" behave with their new status.
It is important to understand that, though the Beatles were entertainers, they were also the leaders of an era where people were pushing back against established social constructs. Throughout the film there are many humorous one liners and jokes thrown back and forth that usually speak to breaking or ignoring power dynamics based on birth, schooling, accent, and dialect. Something that made the Beatles very unique for their time is that they never stood for being treated lesser than because of where they were born. They had all come from Liverpool which is a less privileged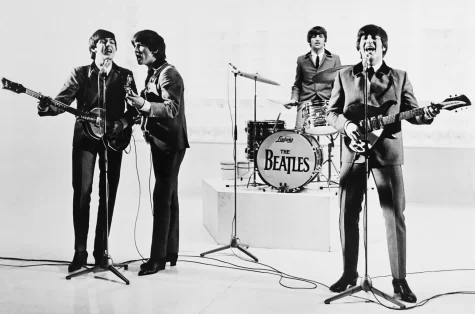 part of England, but they always made a point to keep their accents and be themselves in front of the press which was never very "well behaved" as celebrities had been befour. It was a young person's movement, where the younger generation was trying to differentiate themselves from those who had come before them. There was now more of an emphasis on individuality rather than what was acceptable in society. 
Though A Hard Day's Night was originally made to be a fun family film with tons of gags and a few dirty jokes, it had a great effect on young people in the 60's and set the tone for that entire generation which was probably for the best. In the 50's, many people were born into their respective class and stayed there until they died. The 60's brought forth a time for change and room for other people to share their talents and thoughts with the world no matter where they were from. Movements like these are important to society, and The Beatles, along with other figures of this time, indeed played a big part in the creation of the swinging 60's, asking the question of how celebrities and normal civilians should act: for society's pleasure, or for their own?