Forgotten Bands of the 80's: Dead Or Alive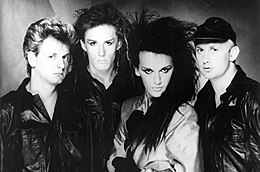 The 70's, 80's, and 90's have been referred to by older generations as a "time to be alive", which I couldn't agree more with, despite enjoying the generation I was born in. That time seemed so interesting, with the birth of so many influential artists and bands that formed a good amount of the music that we have today. This time period gave us groups such as Queen, Metallica, Tears For Fears, David Bowie, and Elton John, and they are all still listened to this day. However, there was one band in specific that went under the radar for the most part in America, that one being the group Dead or Alive, and their frontman Pete Burns, both of which are widely known for creating the hit song, "You Spin Me Round (Like a Record)". In this review, I will talk about their evolution through the 80's, 90's and early 2000's as a band as well as how the changing appearance and mental state of lead singer Pete Burns contributed to that. 
I'm writing about this band in attempt to draw more of a fanbase towards them, or gear more attention towards them despite how old the band is and the fact that because of Pete Burns death they have not produced any actual new music since 2016, besides their most recent album, "Fan the Flame Part 2: The Resurrection" in 2022, which was made using demo variants of already existing songs, and unreleased audio and vocals for new songs.
For a bit of background information, before it was renamed to "Dead or Alive ", the band was a Punk band known as "Nightmares in Wax", which produced about four songs before changing their name to what it is now. Their most notable song, Black Leather is their only hit of these songs. Nightmares in Wax soon became lost in the crowd around the time that bands such as Duran Duran, Ultravox, the Human League, and then the biggest inspiration for Burns to change the bands direction, the rise of Boy George and the Culture Club. So, around this time the band became Dead or Alive, and changed into a Pop band of the time, with their first single, "The Stranger" being released in February of 1982. The band however still did not gain much attention until the release of their cover of "That's The Way (I Like It)" originally by KC and the Sunshine Band, which put them on the Top 20 charts in Britain very quickly after the single was released.
After the success of their single, "That's the Way (I Like It)", under agreement with their record label, Epic, Dead or Alive was to create an album for each single produced that became a hit, which meant that they were now able to create their first ever album, Sophisticated Boom Boom in in 1984. With the revenue produced from their singles and albums at the time, Burns decided to give himself a nose job; one of the first of many plastic surgery operations to come that would come to be part of his notoriety with Dead or Alive. Their first album produced many hit singles, such as "I'd Do Anything", and "Misty Circles", both of which allowed the band to make appearances on top-rated British music television programs of the time, and successfully putting their name in English record stores and on British radios all over. 
However, while their first album was a success, Sophisticated Boom Boom did not ever compare to the success of their second album, Youthquake, which contained their biggest hit ever, "You Spin Me Round (Like a Record)", which hit number one in the United Kingdom, and quickly spread towards countries like America and Japan in dance clubs of the time. Though, this album did not produce just that as a hit single, also producing hits like "Lover Come Back (To Me)", "In Too Deep", and "My Heart Goes Bang (Get Me To The Doctor)". Around the time of this album, Burns made appearances with an eyepatch as it was specifically for covering the black eye he received with his nose surgery, and while originally he didn't mean for his eyepatch to become anything monumental, it quickly did and became part of what he was known for and is considered to be what most people would know Pete Burns to look like.
Unfortunately, the success of Youthquake was never able to be as widely matched as the albums to come after it, with their third album being Mad, Bad, And Dangerous to Know, produced in  1986. This album came with the success of their hit at the time, "Brand New Lover", and showed Burns sporting yet another different appearance, his long, messy straight hair was now swapped for longer, more well-kept curly hair, and no eyepatch anymore. This was due to Burns still not being happy with his appearance, and wanting to change things up for the public. Around this time, it was also obvious that both Burns singing style has changed, as with both Sophisticated Boom Boom and Youthquake Burns sported a much deeper and grittier style of singing, along with much lower notes as opposed to the higher and more "Yodeling" style of singing that Burns said he attempted to use during the production of this album. If you were to listen to the albums in order so far, you would also hear the difference vocally for this. This album also produced minor hits such as "I'll Save You All My Kisses", and "Something In My House", both of which are very popular songs within the Dead or Alive community to this day, but I do not believe "Something In My House" was popular within the club hits around England and America at the time compared to other Dead or Alive hits. 
Now, Burns continued with this singing style and appearance in their album, Fan the Flame Part One, but unfortunately this album did not have any hits in the Americas or United Kingdom, and became a hit in Japan. Which, around this time is when Burns became an icon in Japan, being the future inspiration for many pop bands in Japan in terms of style and how they dress, even to this day his influence is still apparent. In fact, he was so big in Japan that he made Michael Jackson work his tour dates around him in Japan, mainly around the time of his Youthquake and Rip It Up tours, which were the bands biggest live performances they would get. 
After production for Fan The Flame finished, and Dead or Alive also finished touring they took a long break from making music, about five years to be exact. After Fan The Flame Part One came their first Japan-only album (Which the rest of their albums would be Japan only until 2016), Nukleopatra. This was also the first album where Burns' plastic surgery addiction would be very noticeable, with him now sporting long straight hair, defined cheekbones, and lots of goth-looking makeup, much different from his appearance 5 years prior. Most of Nukleopatra did not receive popularity anywhere but Japan, besides two songs in specific; "Nukleopatra", and "Sex Drive", both still being in the top 100 at the time in Japan, but nowhere near the top in England or America anymore. To add to this, Burns did not do large-scale tours anymore and began only performing in small venues, just as he did when the band was younger, not enjoying the idea of touring along with all of the criticism he received for his appearance. 
While Dead or Alive did continue to actively make music and perform at small venues past Nukleopatra, producing one more album, "Fragile" before the band rarely performed all together. After this point, Pete Burns performed by himself up until his death in 2016 in order to get out of the tremendous amount of debt he began amassing from having surgery upon surgery on his face, along with having multiple surgeries to fix his lip as it exploded after a failed surgery to get filler. In the end, he died in 2016 with -200,000 Pounds in debt, his funeral services being paid for by Boy George, one of his inspirations and rivals. 
It probably also did not help that around the time period of Fan the Flame and Nukleopatra, his mother passed away, which put Burns in a depression to where he was unable to come up with new song lyrics around the time of his final two albums being released, along with the fact that he wanted to look like his mother as he loved her dearly, to which some would argue that he looked more female than male towards the end of his life, but he assured his fans and paparazzi that he was a man. 
Finally, despite his lack of fame in the United States, I believe that Pete Burns should be recognized and appreciated more as an artist as he produced great music that goes underappreciated to this day.