Senior Spotlight: Arthur Bayer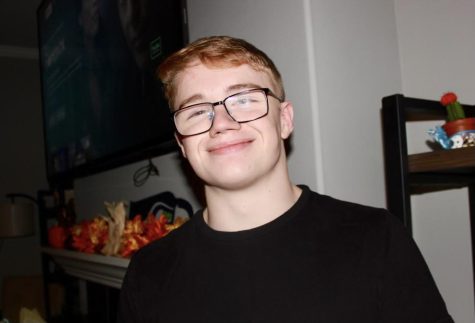 Arthur Bayer is a Senior at Capital High School. He is one of the most well known seniors around school.
In the words of his best friend of 11 years, Silas Rutledge, "Arthur is smart, collected, charismatic, very caring and overall a great person." In his own words, he sees himself as a "pretty chill and laid back" person. Everyone I asked had nothing but good things to say about him. I personally have known Arthur since I was in 6th grade, and we have always been close. Arthur has always been a loyal friend and just a great spark of energy wherever he is at.
Arthur was born in Fairfax, Virginia. He moved around a lot as a kid, eventually landing in Olympia around the age of 4. "I started playing football in 2nd grade when I went to LP Brown Elementary. In third grade my parents had a divorce, so in 4th grade me and my sister went to live with my two cousins. This forced me to move from LP Brown to Mclain Elementary." Arthur had some struggles as a kid, having to move out of the place he called home.
Arthur went to Nova middle school downtown Olympia. Nova is one of the more prestigious schools, you have to test in and pay a tuition. While at Nova, Arthur got some good news, "I came back to live in my childhood home with my Dad, this was in 8th grade. I've lived there ever since." Arthur then spent his next four years at Capital, doing SPSCC since his Junior year. Arthur is also a Student-Athlete, he played football, did track and wrestled in his 4 years at Capital. 
One of the many things Arthur is big on, is his health and fitness. He told me, "I have always been really interested in personal health and fitness. In recent years I have lost about 25-30 lbs, as well I started to consistently weight lift." Arthur also is one of the smartest people I have ever met, constantly reading books and educating himself as a kid. He told me, "I used to read a lot, sometimes up to a book a day." Another thing he talked about was how his high school GPA doesn't matter much to him, saying, "My high school GPA doesn't matter to me because from running start I am trying to get my associates degree, then transferring into a 4 year program. That will be easy because they only care about my college GPA when transferring with a degree, but overall I have still held a decent high school GPA." 
Arthur being a senior this year means he went through one of the most unique high school experiences ever. The pandemic changed everything about our high school life. I wondered how this affected him, since he did sports and went to SPSCC.
Arthur told me, "I was a sophomore when all the Covid stuff started. At first I was really happy because they gave me all A's in all my classes, and I thought it would be for only a few weeks." This was hard for many people, they didn't know when they were coming back. "It extended into summer and before we knew it the next school year. I remember it was a really uncertain time, not knowing if sports were happening and only having online classes. It really made our learning environment weird." Arthur, like many Seniors, pushed through and made it past the zoom classes and had a much better Senior year. "Senior year has been way better, coming back to school and then finally ending the mask mandates."
Overall, Arthur is a very hard working student. Next year he plans to go to the University of North Georgia, then hopefully transfer to the University of Georgia. Being a Student-Athlete is a struggle, but Arthur has proved it is more than possible, as well as being able to overcome past obstacles.