CTE credits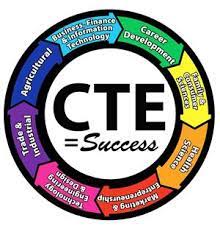 Career and Technical Education credits are some of the most useful classes you can take in high school. First, they are college credits. If a high school offers CTE classes, then they must be collaborating with a nearby college to allow them to host those classes. At most high schools CTE classes like the student store, where we sell all sorts of food and snacks at lunch to help fund the school, help teach important social skills and help us learn to be responsible. CTE classes also help us find where we want our career path to end up.
CTE classes are proven to increase kids chances of graduating. In 2009, a study was done by the U.S Department of Education on 9th grade kids who focused on CTE throughout high school. 98% of those kids graduated on time, or early. Compared to the kids who didn't focus on CTE, 86% of them graduated early or on time. CTE classes really give you necessary skills to succeed and increase your income once you graduate. Also, CTE classes help you find your desired career goal if not identified yet, or help you find a good starter career path.
The U.S department of education did an experiment of sorts. They tracked kids who graduated focusing on other classes and took no CTE classes while they also did the same with kids who decided to focus on CTE classes. Eight years after their expected graduation date, students who focused on CTE classes had a higher median annual earning than kids who didn't focus on CTE credits. A class I am currently taking right now, called "Core Plus" is a good setup for a higher paying job. This CTE class teaches you mainly how to rivet, and how to use rivet guns and many different tools including power drills safely. Riveting is a forging process that may be used to join parts together by way of a metal part called a rivet. One of the main uses for that skill is at Boeing. Boeing is in great need of skilled manufacturers, especially people who can rivet. Boeing hires these manufacturers to help build their planes. Have you ever seen what looks like little bolts nailed into the side of an airplane? Those are rivets, that is what we are learning to do in Core Plus. "Core Plus" gives us students the option to walk out with a certificate saying we completed the course. If you walk into Boeing, show them the certificate, then they will give you an interview on the spot. This is an amazing way to get a career started and secure a very good financial future for yourself.
Core Plus is a great class, but there are many others. Mr. Murray, the teacher of Core Plus, has been teaching CTE classes for 23 years. Mr. Murray teaches most of these classes. I actually got a chance to talk to him about some of his classes. Mr. Murray teaches Intro to Metals (Welding), Intro to Woodworking (wood shop), Sign Design, Precision manufacturing (machining), and Core Plus. When asked what skills he wants his kids to gain in his classes, Mr Murray said, "I want for them to make intricate projects, and learn all of the skills necessary to survive in any industry, especially the manufacturing industry." Mr Murray also worked in the manufacturing field for a while, and he really cares about his students' success. Mr Murray when asked what his goals were for the kids taking his classes, he said "I hope to give them the tools to get awesome jobs and careers they are super excited about and can make a living wage from."
Capital has many CTE options, one of which is the Student Store. The class is ran during both lunches, they open up the store for any student to come and get food. The store gets fresh Papa Johns pizza everyday, they also offer a variety of drinks and chips. The most notable thing the store has is freshly baked cookies they make before each lunch. Twelve year teacher at Capital High School, Mrs Elam, teaches Student Store. This is what she said when asked about what kind of skills you gain in this class, "My students learn employability skills, my store students are learning how to run a business and they could have a great chance at being good business people and successful young entrepreneurs." Mrs Elam also told me about some opportunities you get when in one of her classes, "We do Deca club, travel, competition, projects and fun learning activities, hands on work and project based learning on marketing. I like my students to have hands-on work, learn by doing." 
CTE classes are very good ways to increase your skills in certain fields and get good hands-on experience. There are a ton of opportunities like these great classes at CHS and they are amazing ways that enables you to work toward a good future for yourself.