Senior Spotlight: Jack Sims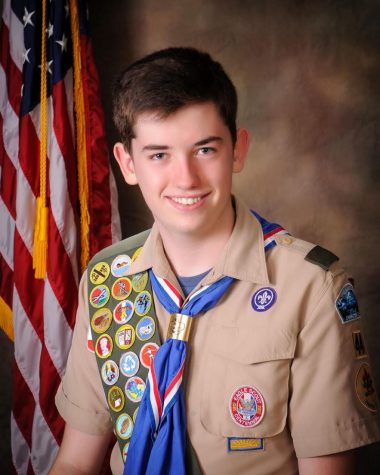 Have you ever wondered where all your hard work will take you? Have you wondered how much effort you can put into something? Well, Jack Sims is an example of a huge culmination of effort. Jack has worked for 10 years to become an eagle scout. Jack is one of my favorite people because he comes from a military family so has lived all around the world including, Germany, Poland, a couple other places around the U.S., and finally here. 
He also tells the greatest stories, his favorite from the boy scouts is, "Summer camp in Croatia, headcount at night before everyone went to sleep, found that somebody was missing, pretended to be secret agents trying to find him. Eventually, we went to the scoutmaster because we couldn't find him and he just walked out of his tent and asked 'Why's everyone calling my name?'"
Jack is a great student who holds a high GPA. He was also part of the swim team this year. He held a job as a lifeguard at Discover Aquatics that he recently left so he could work at a boy scout summer camp and give back to the community that has given so much to him.
When Jack is asked about what being an eagle scout means to him, he responded with, "It means that I can be dedicated to an organization for 10 years and that I have the skills to lead in service projects and in the workforce." This seems important to him that being an Eagle scout has given him the skills to be able to move into the next phase of his life, well prepared. "Being a boy scout has shaped me as a person so that I have the skills to make new friends more easily, as well working studiously towards a goal."
He has enjoyed his time here in Olympia and especially with his friends in Capital. He will be attending the University of North Dakota to get his commercial flight license. Jack would like to leave everyone with the inspiring message of, "Anyone can become an Eagle Scout with the right amount of effort."