Death by Rock and Roll? A Review of the Pretty Reckless' Newest Album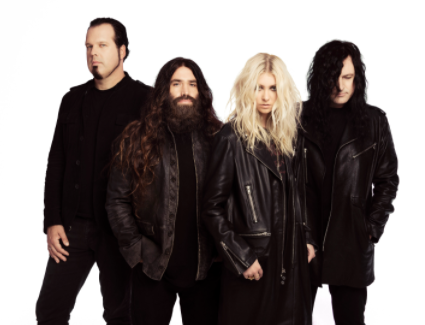 There are a lot of up-and-coming bands that will shape the future of the music industry. Whether it's pop, reggae, rock, or rap, there will always be another generation of bands waiting in the wings to be at the forefront of the industry and musical inspiration. For the last edition of these album reviews, I figured to take a look at one such band that is already reshaping the Hardrock industry: The Pretty Reckless. Formed in 2009 by New York singer and frontwoman Taylor Momsen, The Pretty Reckless have taken the world by storm throughout their four studio albums. Their fourth and newest album, Death by Rock and Roll, is the subject of our analysis today.
As someone who enjoys classic and modern rock, this should come as no surprise when I say I thoroughly enjoy this album from a consumer's perspective. However, as I listened from a musical standpoint, I came to a personally shocking conclusion. From grooving tracks such as "Witches Burn" and "Turning Gold" to modern-rock mastery in the title track, "And So It Went" and "Only Love Can Save Me Now" as well as headbangers like "My Bones" and country-rock ballads like "Rock and Roll Heaven", "Got So High"; and "Harley Dancing", Death by Rock and Roll is a modern-day masterpiece. 
Considering this is only The Pretty Reckless' fourth time recording an album, this is easily one of the best fourth albums I've ever heard, right up there with Metallica's And Justice for All. However, this is not the best album I've ever heard of all time, not by a long shot. If I had to give my own personal opinion, I would give this effort a 7.8/10. The only big thing I would really change about it would be using dynamics more effectively versus only being one volume the entire time. That's something AC/DC does very well, and I think that Pretty Reckless could be better for it. 
Image credit: https://www.google.com/url?sa=i&url=https%3A%2F%2Fwww.harmonixmusic.com%2Fblog%2Fan-interview-with-taylor-momsen-of-the-pretty-reckless&psig=AOvVaw1P2KpVuAruSznvk7y4rQMl&ust=1621365888412000&source=images&cd=vfe&ved=0CA0QjhxqFwoTCMjZ2eG40fACFQAAAAAdAAAAABAD
About the Writer
Tristan Pratt, Writer
Tristan Pratt is in his first year writing for the Capital Outlook newspaper. He is a writer as well as a content/style editor scheduled to graduate in...