COVID Habits Here to Stay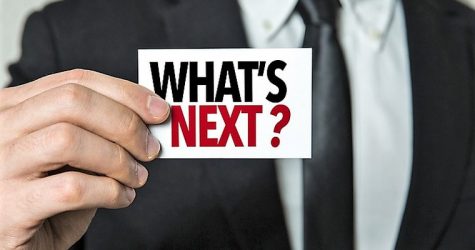 In the midst of the first global pandemic of our lifetimes, and the subsequent lockdown, some new habits were developed. As a new normal starts to emerge, questions arise about which habits are here to stay and will carry on into our relatively normal lives again. Moving forward there are three COVID habits that should continue, online learning, contactless delivery, and email meetings.  
The first "habit" or skill that was developed for students and educators, was online learning. We were all forced to adapt quickly to learn a new system and for some this new flexible system was helpful in balancing school and work or family lives. Online learning also aided those who struggle with anxiety or other challenges. There is an opportunity in this transition into online learning that could make higher education much more accessible to people in the future. In the future if institutions and universities offer online learning, a new demographic could be reached that wouldn't have been able to attended classes otherwise. For these reasons and for the many people it benefits, I hope online learning is here to stay.
Another COVID solution that was developed to help businesses stay open was contactless delivery. This service enabled restaurants to continue to sell their food, and it allowed the customer to receive their food at their door without the risk of leaving the house or human contact. While we may not need these aspects of the service in the future, I think it was a helpful practice. We used contactless delivery several times at our house and we didn't have to worry about missing the doorbell if we were say taking a shower. We knew our dinner could be delivered regardless and we could get it when it was convenient. This type of delivery also helps restaurants to broaden their service offerings and provide more jobs for delivery drivers. It seems like a win for everyone and I hope it continues.
One last COVID habit that my parents would like to see continue would be email meetings. Both of my parents had jobs where they previously would have to leave often to attend meetings. During COVID, they got to stay home and conduct these meetings through either Zoom or email. This cut down on their travel time and costs, and also enabled them to be home more. If certain business can be conducted over email, it seems like it would be smart use of everyone's time to continue this practice.  There will be times when online meetings will not be appropriate but overall these meetings great solution and we should continue with them in the future.
While we've all experienced many losses, we have also learned valuable lesson as we have scrambled to create COVID solutions. Some of these crisis habits formed during the pandemic such as online learning, contactless delivery and email meetings will help to propel us into a more efficient and equitable future. And while we have so much to grieve, we can also be grateful for all the lessons learned along the way.
About the Writer
Max Landers, Writer
Max Landers is a Senior at Capital High School and writes for the Capital Outlook newspaper.  Max specializes in writing sports and lifestyle columns...