A Day in the Life of Distance Learning Family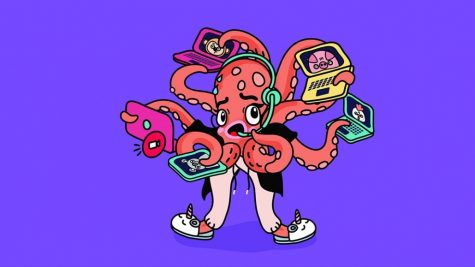 You can hear the alarm clocks from the rooms of the four sleeping teenagers start to ring about 8:45 am most mornings around our house. We shuffle to the bathroom and to the kitchen to grab a quick breakfast. We begin to settle back in our rooms, in front of our computers and you can hear a chorus of dings as we are each ushered into our Zoom classes. My mom usually takes a break from her "office" in the living room to make her rounds ensuring we all have logged in successfully. With four high schoolers in our house, this has been a challenge for each of us, for different reasons. 
I talked with my siblings and Mom to see what they were finding most challenging and most rewarding about this unprecedented school year. I started with my freshman siblings.  They are twins and beginning their high school careers in their beds. My brother, Zeke, said the hardest part is "not getting to see his friends and looking at a computer all day." Kora added that she finds it "hard to not be able to get to know your teachers and understand their expectations." And due to their late alarm clocks, I think we all agree that the extra sleep is a perk of the 2020 system.     
My brother Quincy, a sophomore, agreed with the challenges of missing his friends. He said, "it's hard to stay motivated without having anything to look forward to." Like me, he is missing his basketball practices and workouts and the energy and joy that they gave us. He did say that he "finds it easier to stay organized in Schoology with one single platform." That has been helpful in tracking assignments and keeping up with them.  
My Mom, who calls herself the "The Chief Education Nagger," spends her days working remotely and trying to help us stay on track. She said, "It's been challenging to keep up with everyone's progress and keep a gauge on emotional and mental health as well. I hate seeing the disappointment on the kid's faces every day as they mourn their losses this year.  However, I have enjoyed getting a small glimpse into the classrooms and listening throughout the day as the teachers give it their all to make the most of the situation. I have been encouraged by their tenacity."
As the Senior in the house, I am definitely grieving everything we lost this year. I miss the banter with the teachers every day and my lunches with my friends. I miss practice and basketball season, of which I was looking forward to for years. I certainly don't mind the extra sleep and flexibility in the schedule. I think I have probably learned a lot about navigating online platforms that will help me in the future as I head to college next year.  
We all begin to emerge from our rooms as the last Zoom wraps up. My mom asks a million questions about what needs to be done for our classes and we all moan and simultaneously scavenge for food in the cupboards. It's another day of distance learning, one that will begin again in a couple of hours. We never could have imagined it and someday we will try and explain it to our kids. We will continue to name the losses and name the perks for what they are. We can all take comfort in knowing we were not alone in our struggles and that collectively we will make it through.
About the Writer
Max Landers, Writer
Max Landers is a Senior at Capital High School and writes for the Capital Outlook newspaper.  Max specializes in writing sports and lifestyle columns...