Steroid Era Baseball in the 1990's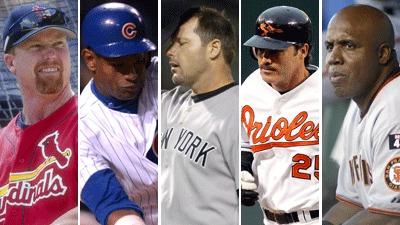 In the mid to late 1990's, baseball became known for steroid abuse and long, towering home runs. The leagues saw an exponential increase in runs scored and the dominant pitching performances seemingly evaporated. Even for the genuine players that relied on talent and skill alone, this time period tainted baseball forever. 
The 90s, however, are not where steroids in baseball started. It's just the time when it hit the all-time high. Steroids in baseball have been around since the 1970's, but on a much smaller scale. A former Major League pitcher, Tom House, spoke openly in a 2005 USA Today article on the topic saying, "We didn't get beat, we got out-milligrammed. And when you found out what they were taking, you started taking them too." By the 1980's, steroids had taken the backseat to amphetamines. During the 80s, though, everyone was using some sort of Performance Enhancing Drug (PED). Everyone from Hall of Famers to journeymen just try to stick somewhere in an organization. 
The 90s began with a meeting between the MLB Players Association (MLBPA) and a Texas Rangers' pitcher and player representative. They brought the issue of steroid use to the table, but were ignored at first. Later his claim became too large to ignore due to the statistics of it all. 
In 1998, St. Louis Cardinals first baseman Mark McGwire and Chicago Cubs right fielder Sammy Sosa were each on a record home run pace. Each was going back and forth in an exciting race to see who would break Roger Maris' 61 home runs record. Ultimately, though they both broke the record, McGwire broke the record first. He hit his 62nd home run on September 8th and finished the year with 70 home runs. Sosa followed and finished his season with 66. Later, both of these men were linked to steroids throughout their home run chase. 
Finally, in 2003, Major League Baseball conducted a sample test to see how many players were using some sort of PED's. Their results shocked the baseball world, which inevitably led to them instituting frequent drug tests and suspensions for use of drugs. The scandal peaked on March 17, 2005, when several MLB players went before Congress to testify about the use of steroids and other banned drugs in the game. 
These years of what people in the baseball world call 'juicing,' lead to a permanent tarnish on the game. Taking steroids is a form of cheating in baseball, but when compared to something like knowing what pitch is coming before it is thrown, steroids take the back seat.
About the Writer
Ryan Hanna, Editor
Ryan Hanna is a junior at Capital High School and is expected to graduate in 2021. He is a staff writer, copy editor and manager of 1st period Journalism...