A Family on the Field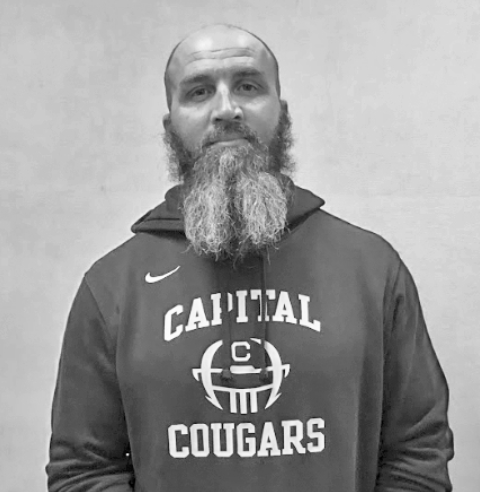 Friends on and off the field, the family formed on the football team stretches farther than the end zones. 
A team that unites the school with their determination, spirit, and athleticism have a unique atmosphere that makes them stronger as individuals, and as a team. 
One part that seemed universally agreed upon by the players was the family aspect of the group. 
Senior quarterback Tristan Redman shared his thoughts about the football team and the community formed within it. 
"It is a great place to be, because we all love each other," said Redman. 
Coach Rose, who was introduced to the Capital scene two years ago, has since been preaching the importance of brotherhood, and connectedness through a shared friendship bond.
"There's two atmospheres that you can have in football, a highly competitive, non-team-like, individual atmosphere, or you can have a competitive, but at the same time we're going to be a team, we're going to be a brotherhood and we're going to be together, and I think that's the atmosphere that we have," Rose said. 
Senior running back, defensive end and free safety, Clayton Grady, feels this brotherhood by explaining that his favorite part of the team is that everyone feels like they are friends.
Two players new to the team this season also felt the compassion and love from their teammates right away when they joined. Senior kicker Connor Potkonjak said that he was accepted quickly, as agreed senior Gabe Taylor, the team's slot receiver, kick returner and corner.
As in all sports scenes, when practices are long and the workouts are hard, it's the camaraderie and friendship of one's teammates that makes those hard times pass more easily.          
There is no shortage of hard work on the Capital football team. They are working on field six days a week, as well as getting into the weight room. 
Coach Rose commented on the hard work that the team puts in every day.
 "There is definitely a really good work ethic within this team. For everything they might lack, they make up in hard work," said Rose. 
These past few weeks the football team faced tough games, all of which were big, as both sides were competing to earn their position in the postseason. But one thing is for sure: in those tough games, the team faced them head on, playing together as a family, and ultimately punching their ticket to the playoffs.