Kulture Korner
Welcome to the Kulture Korner, where new music is recommended every issue. This article will be about the song North Face by Odie. the song was originally released as a single, but was then released on his debut album Analogue. Odie is relatively unknown in the r&b game, but those who do know who he is, are thoroughly impressed with his performance. Analogue has not reached the big mainstream circulation yet, it has received great reviews from customers although it appears there are no official critic ratings anywhere.
Odie has been considered an artist with all the potential to break out, he just needs the platform. He has a vocal range comparable to that of Frank Ocean and the production values of Kid Cudi. The goal for this paper is exactly what he needs, just in a bigger scale. The goal for this article is more for people to listen to him and appreciate him and so it's time to talk about what the song is about.
All in all, the song is about love. He sings about how he used to work at the North Face when he lived in San Francisco as a teenager, and how while working there, he met a girl. He saw her as perfect. She made him happy, she was loyal, everything about her was adored by him. He still needed to make them money, so he was distracted and his attention was not fully centered around her, although he thought about her often at work.
He then sings about how he originally just wanted her, but soon feels that he has fallen in love and sees her as the one, but again presents that he can't give her everything. He expresses this, for example in the line, "swear she's the one, but I'm still employed."
Heartbreak and anguish take the reins on the second verse/outro. The girl is gone. To replace the feelings we lost with her, he begins to pretend that every girl who comes into the store is the girl he had feelings for and replicates the feeling for them in the line, "it started with want and now I'm in love, with every girl, who walks inside."
Odie channels his inner hopeless romantic saying that he lost at love and he will walk alone in love and life. but it immediately picks up as the North Face has been a metaphor for the girls and also literally the store he works at. When he says, "I used to work at the North Face," you realize the North Face has been him thinking about the girl and he sings about how he's ready to leave the North Face, aka, falling out of love with a girl and recovering from the heartbreak, "I can't wait to leave, I can't wait to go home, this place isn't for me," solidifies the feelings that he's done with this love. Some of us leave the North Face easier than others, but we all eventually leave.
About the Contributor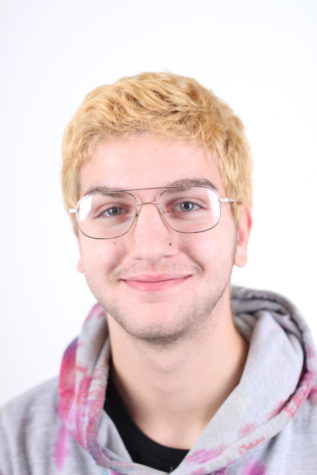 Avery Parsons, Photo Editor
Avery Parsons has been in Journalism since September of 2018. He is expected to graduate June 14th of 2019. His jobs within journalism is photo editing...