Editorial Board Responds to CHS Dress Code
Hang on for a minute...we're trying to find some more stories you might like.
We the editorial board condemn Capital High School's administration and teachers' use of the school dress code on the grounds that it makes female and female-presenting students unsafe and is not effective in its goals of promoting productive learning environments in teaching students how to dress appropriately.
This is based on the grounds that harassment is not a productive learning environment and a public school system does not have the authority to encourage such behavior.
On April 26, when Capital High School administration read the dress code over the PA system, several female students alerted Outlook editors to their experiences of being publicly shamed when their bodies and how their clothes fit on their bodies were discussed during class time. Students told editors that a teacher measured the leg lengths of shorts and skirts in class and discussed who was or wasn't violating dress code, and other students said a teacher told their class that if a female student's clothing "made him blush" they were violating the dress code.
Public school is a unique setting as everyone is required to attend. Because of that requirement, special care needs to be taken to protect the experiences of all, and CHS just required all its female and female-presenting students to experience harassment.
The current dress code policy reinforces a culture that objectifies women, blaming them for how others perceive them. And that, quite simply is basis for the definition of rape culture, but until we are all ready for the conversation of what abolishing that culture would require, let's start with clothing equality. We have control over that decision here at CHS.
By keeping the female-focused dress code policy, CHS is encouraging administration and staff to view female and female-presenting students' bodies as sexual, and other students to be reminded that they too can view any female body for their visual pleasure. This policy does not create a productive or safe learning environment for female and female-presenting students, at the most, male and male-presenting students experienced harassment as well.
The idea of females covering up to not distract males, reinforces that a male education is more important; and that females should change to better a male's educational experience.
Any conversation around how the current dress code allows staff to feel comfortable, is merely an illusion to personal preferences of propriety, isolated from socio-economic, gender equality and cultural factors. Definitions of what's acceptable in clothing is debatable and based upon a mix of culture, class, age, finances and gender expectations.
Secondly, the conversation that students need to dress professionally is also an illusion as…the school is not a professional environment. Public schools do not pay students so they can afford to invest in office-appropriate clothing.
By abolishing the dress code here at CHS, the more important lesson, overshadowing all other alleged benefits, is the conversation of gender equality. Does your personal preference of what you like to see, become  more important than my experiences of sexual harassment.
Conversations about what women can and should wear is complicated, and the policy is unfairly worded and unfairly enforced and the entire conversation based upon sexist/traditionalist opinions are not grounded in fact.
Outlook demands that the administration take the harassment allegations seriously and respond accordingly by abolishing the dress code.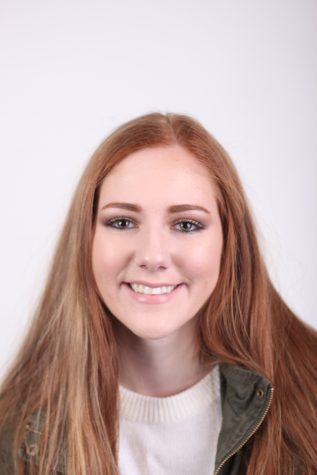 Maddi McElroy, Editor-in-Chief
Maddi McElroy is the editor-in-chief of Capital Outlook Newspaper. This is her third year doing journalism and being apart of Outlook. Journalism her favorite...