Rap Artists Take Aim at Trump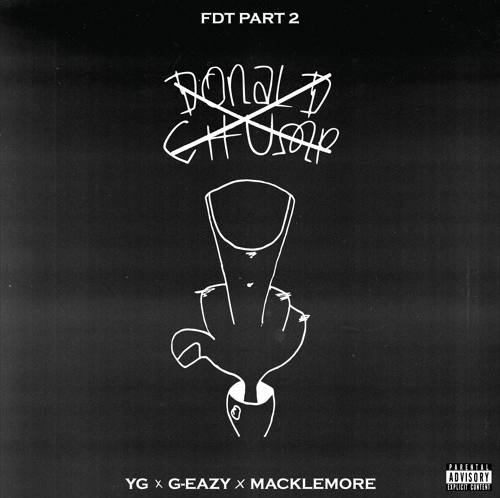 Hang on for a minute...we're trying to find some more stories you might like.
The Grammy award winning hip-hop artist Kendrick Lamar has always been involved in politics by speaking out in his music about issues such as mass incarceration and police brutality. A loyal supporter of former president Barack Obama, he has recently taken aim at our new president.
In one of his newest songs, Trump becomes a major target and focus of his lyrics. In "The Heart Part IV," Lamar raps "Donald Trump is a chump, know how we feel, punk Tell 'em that God comin', And Russia need a replay button, y'all up to somethin'" letting his audience know exactly how he feels about recent political developments.
Lamar refers to Trump's alleged campaign connections to Russia and also touches on Trump's Electoral College success suggesting that it's "blasphemy" that Trump lost the popular vote to Clinton and still became president. He raps, "Electoral votes look like memorial votes, But America's truth ain't ignorin' the votes. It's blasphemy, how many gon' blast for me?"
The new song is a possible tease for a probable April 7th release time for an anticipated upcoming album. Lamar's song is an interesting flip in content as rappers have used Trump as a positive term for success.
This topic, however, is taking on popularity with other artists. The list of current rappers that are unleashing their anger about politics include: YG, Mac Miller, Eminem, Nipsey Hustle, G-Eazy, and Macklemore. YG and Nipsey Hustle were part of a two part song, the first titled FDT and FDT Pt. 2 included G-Eazy and Macklemore.
These artists have a captive audience on a few levels. One, these artists have legitimate concerns about the current American government. They also have artistic license to write and perform their opinions using language not appropriate for mainstream media. Let us not ignore that these songs are successful because their lyrics and sound are impassioned and meaningful. These are talented artists creating talented tracks that are adding to this current trend. Finally, their audience is receptive because of the age group. Youth are finding their voices being expressed, that those they idolize are legitimizing their concerns.
Deena Zaru from CNN reported that Eminem also is taking aim at the government, "The Detroit rapper is unleashing on President Donald Trump in a profanity-laced verse on "No Favors" — a song off fellow Detroit rapper Big Sean's "I Decided" album, which is out Friday. 'I'm anti, can't no government handle a commando/ Your man don't want it, Trump's a b**** I'll make his whole brand go under,' Eminem raps on the impassioned track that touches on issues like police brutality, the Flint water crisis, racism in America.
Artists exploring this trend in hip-hop after "idolizing his fortunes and authority in thousand's of lyrics" writes Zaru, "Hip-hop's attitude toward both Trump and Clinton has undergone an incredible evolution this year; Trump has gone from being an object of respect to a pariah in rap lyrics."