The Rats of Capital High School!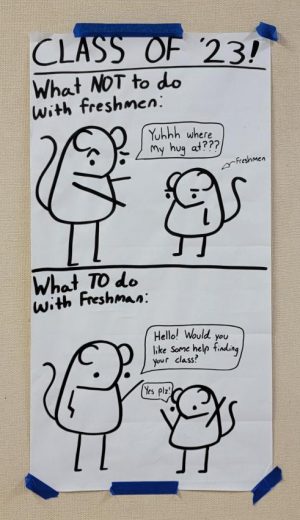 Welcome to Capital High School, within Capital we have many different communities. One being is that we have a huge art community. Many people know that there are CHS rat drawings that are posted up around the school with their art being on a posted note. Teens tend to see the rat drawings around the halls and the classrooms within the school. Many people probably ask themselves why we see them around the school so much. Well, the rat creator when interviewed wanted to create something fun around school, since starting this project sometime early in 2021 when covid restrictions made school a lot harder for a ton of students.
Though when this project started for the rat creator it was a personal project for them, continuously getting feedback from others around, it helped build up a safe sense of community around the drawing and the rat creator found themselves wanting to spread and create more around Capital. In addition to having the rat drawing, there is joy in having them posted around Instagram with having the rats posted to where they were found located where they were put. 
When discussing with Mr. Wall about the rat creator about the projects around the school Wall knows many of the staff around the school enjoy seeing the joy of finding the rat drawing around Capital High and receiving them from students. The artist makes ways of connecting with the students around the rat drawings around the halls. When prompted with the question if Mr. Wall would have wanted to experience something like this when in high school as a teen the answer to that question was that he would have liked something like what the rat creator is doing.
Where at Capital High School can you find these CHS rat drawings? As stated you can find many around the halls, during unexplored places around the school. It allows students to hunt down where the rat drawings are, giving the students a fun activity while on their day-to-day school day. Every rat drawing on any colored posted note is one of a kind drawing for that posted note with the rat. This makes all the rat drawings 10x more special to different individuals around campus when finding these fun, funky, and fantastic rat drawings. Check around campus if you can spot any and count as many as you can! Feel free to even take the sticky note and keep it for yourself but be sure to take a picture and submit it to @chs.rat.sightings on Instagram!