Senior Spotlight: Tiera Garrety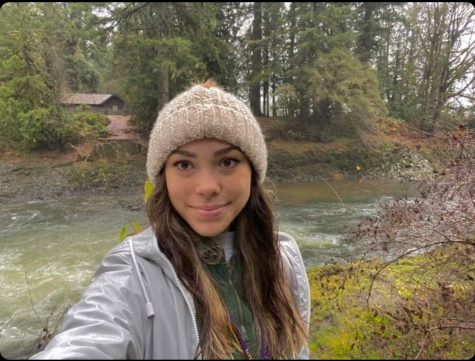 Tiera Anne Garrety is a class of 2022 senior who is participating in running start and who has had an impact on the school and the people around her, she can inspire anyone who is willing to listen.
Tiera's life has been highly impacted by her heritage, she is a member of the Chehalis tribe, and when you talk to her about it, you can see her pride. When Tiera was little, she spent a lot of time with her Chupa (Grandpa) and Kaiya (grandma), they would spend a lot of time teaching Tiera her heritage, traditions, and language. Tiera would grow up being more fluent in speaking Chelhalis than English. One of the most pivotal moments in Tiera's life would take place in kindergarten. On one of the first few days of school, she would try to speak Chehalis to her teacher, who didn't understand or know the language. After school, she called her Chupa, and told him "I'm not going to speak Indian anymore, no one speaks Indian." Tiera gives credit to this life event for starting her journey of finding out who she is in correlation to her culture, and how growing up in a predominantly white school district has affected that. Another important event in Tiera's life was visiting The National Museum of American Indians with her mother. Tiera's mother showed her how her tribe was represented, and the experience sparked Tiera's interest in Native studies.
Tiera has dedicated a lot of time to fighting for equality and recognition, not only for her people but the people who are overlooked by our system. This year, she has worked closely with Mr. Brown to revise the school's land acknowledgment, a land acknowledgment that failed to recognize the Chehalis people. Through her work, she has helped preserve her heritage by educating people about the Chehalis tribe. 
Theatre has emerged as an important part of Tiera's life, she has been taking private acting lessons from fourth grade through eighth. She participated in Broadway-bound west, Seattle classes. They performed cuttings from plays each month, and in 7th grade she performed her first full-scale production. Since then, she has been an active member of the International Thespian Society, she has participated in many Capital productions such as The Crucible, Almost Maine, Musical Madness, Puffs, Shakespeare in love, and Matilda. In January of 2021, Tiera saw things in the theatre troop that needed change, so she ran for Troop president, Tiera won the election to become the troop president for the 2021-2022 school year. Theatre wasn't the only performing art Tiera participated in, she was also a part of the CHS band playing the oboe.
After high school, Tiera is going to the University of Oregon in Eugene to take part in their native American and indigenous people studies, and she plans on majoring in NAIS. After getting her bachelor's degree, she is debating going into law or education. During the process of writing this article, it has become ever clear to me that Tiera is a great leader, and has the tools it takes to do anything she sets her mind to.