Capital's Boy's Tennis Team Goes Undefeated!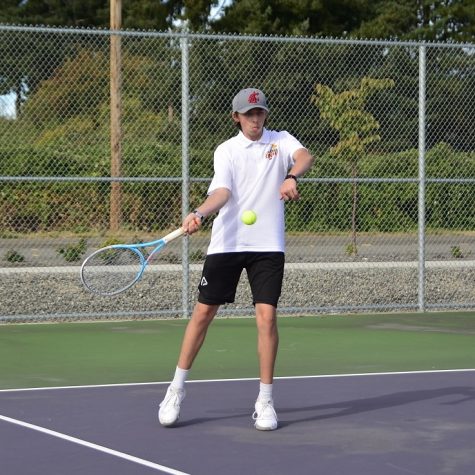 The Capital High School's Boys Tennis Team has put up a very impressive season this Fall, going 14-0 beating out Gig Harbor, River Ridge, Central Kitsap, and many others. The Tennis Team coached by Tom Alongi didn't just find success during the regular season, they also put up impressive numbers at league. Next, the team is set to play at Districts.
The Tennis Team is led by their strong varsity lineup. Colby Cinqmars as number 1 singles, Nicholas Godfrey at number 2 singles, Aiden Waite, and Xander Robertson at number 1 doubles, Alex Gradev and Ryan Jansen at number 2 doubles, then Jack Grippo and Alden Whitney at number 3 doubles. During league, Aiden Waite, and Xander Robertson won the Doubles Title. Colby Cinqmars placed 4th for singles, while Nicholas Godfrey placed 5th for singles. Alex Gradev and Ryan Jansen placed 5th for doubles after defeating a Gig Harbor team, and unfortunately, Jack Grippo and Alden Whitney were eliminated after a match against their teammates Alex, and Ryan in an elimination match. Both teams played well with the game ending in a close Tie Breaker. 
There are some concerns about the Tennis team being able to keep its dominance, and the concerns are real, over half of the varsity team is graduating this school year. But the future is still looking bright for Capitals Boy's Tennis. With each coming year, the depth of the team grows, and more talent presents itself, not to mention, the JV team also has a lot of talent that should be ready to perform next year.