The Homelessness Crisis in Olympia: Is there a solution?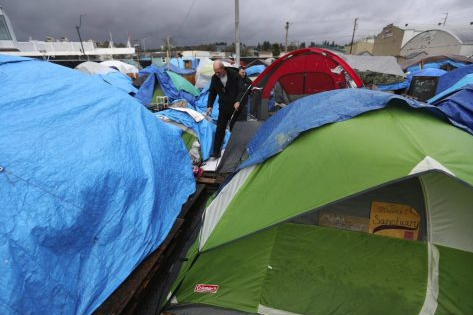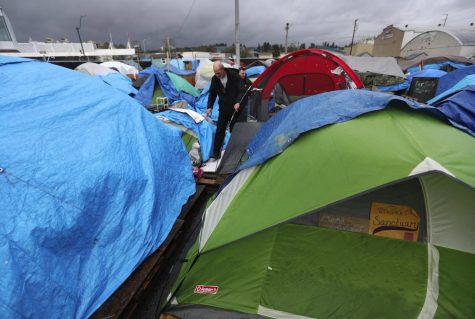 Many people living in Olympia criticize the homelessness issue in the city, and their concerns are not misplaced. In Seattle, there are 10 unhoused people for every 1,000 housed people. In comparison, Olympia has 15 unhoused people per 1,000 housed people. Due to the COVID-19 pandemic, shelters have had to cut the amount of beds available to unhoused people in half. In just two short months, the amount of tents pitched downtown have multiplied by ten. 
In 2018, the city of Olympia established a lot downtown where up to 150 people could legally pitch their tents. While many local shop owners were worried what this would mean for business, the site seems to be working in preventing unofficial camps in other parts of the city. The unofficial homeless camp under the bridge on Fourth Avenue used to have over 70 tents pitched, but on a recent trip by a city homeless response coordinator, Colin DeForrest, it was reported that only a couple of tents endured. DeForrest also created a similar authorized tent camp in Tacoma, and saw a 9 percent drop in the overall homeless count in Pierce county.
At this site, the use of drugs and alcohol is allowed, but they can only be used outside of the lot's perimeter. While some might find this concerning, the alternative is not ideal as well. In Seattle, city-run homeless sites are much more regulated, and they have evicted people who have used drugs or had a mental health episode. These people will continue to experience these things, but in an unprotected environment.
While still considering the positives to having an authorized homeless camp, the site was only intended to be temporary. City officials, housed, and unhoused people alike are begging the question; "What is the permanent solution to homelessness?"
The answer to this question requires a lot more community involvement and resources. The National Alliance to End Homelessness offers a variety of different solutions, the most prevalent one named Rapid Re-Housing. This would involve recruiting landlords, in order to have access to as many housing units as possible, for unhoused people to temporarily reside. Then, the organization, the city, or a partnership of the two, help pay for expenses such as security deposits and rent. Lastly, volunteers or social workers help to connect the residents to special services, help the job search process, find affordable child-care options, or any other support needed to stabilize the individuals lives until they are no longer at risk of becoming homeless.
With enough money, resources and community support, Olympia may one day be able to be a city in which everyone has a home. Until then, the city authorized tent camp, which was originally intended to see a lifespan of one year, will now be approaching it's third legal year.
About the Writer
Gwen Touney,
Gwen Touney is a journalist for the Outlook, and is a part of the class of 2023. She enjoys writing about a variety of topics, but especially about issues...